Government has removed online planning resources relating to parks and open spaces from main planning portal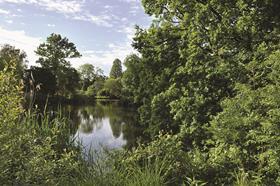 The government's cull of online planning resources relating to parks and open spaces will lead to poorer, less sustainable development, lobby groups have warned.
The Town and Country Planning Association (TCPA) and three other concerned organisations have complained to the Department for Communities and Local Government about the removal last month of green infrastructure best-practice advice from the main portal for planningadvice.
Government environment advisor Natural England's green infrastructure best-practice guidance covers urban parks, green roofs, rivers, canal tow paths, cycle routes, cemeteries, allotments, and a range of other land uses.
The TCPA, along with the Land Trust, the Landscape Institute, and environmental charity Groundwork, argues that the guidance's removal from the Planning Portal hub downgrades its legal status within the planning process.
Their letter, which was also sent to the Department for Environment, Food and Rural Affairs (Defra), says the move undermines the ability of National Planning Policy Guidance users to find relevant information on green infrastructure.
Without this guidance we risk creating poorer quality, less sustainable places

Kate Henderson, TCPA
t adds: "A lack of up-to-date guidance will hamper efforts to deliver effective, multifunctional green infrastructure on the ground, undermining the ambitions set out in the government's Natural Environment white paper."
TCPA chief executive Kate Henderson said dropping the best-practice information from the site would set back work to promote green infrastructure as the solution to a range of economic, environmental and social challenges.
"Without this guidance on green infrastructure we risk creating poorer quality, less sustainable places, which will have a serious impact both on human health and well-being, and on the natural environment," she said.
"We urge the government to ensure that the relevant guidance is in place so that the full potential of green infrastructure can be realised."
Housing and planning minister Brandon Lewis dismissed the groups' allegations as "completely untrue".
"We have actually increased green belt protection and have allowed councils to introduce a new local green space designation to give extra protection to valuable green areas," he said.
Natural England said the green infrastructure guidance was still available on its own website, and requirements for it to be considered by planners were unaffected by its removal from the Planning Portal.
It added in a statement: "Defra will do user testing with developers and planners to check that appropriate guidance is available for those needing to take green infrastructure into account."