Exclusive: Peter Jacobs latest senior departure from £2bn turnover construction firm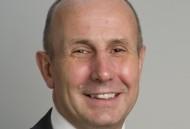 The boss of Morgan Sindall's London construction business is to step down, in the latest in a string of senior departures from the £2bn turnover construction group, Building can reveal.
Morgan Sindall confirmed this week that Peter Jacobs, managing director of Morgan Sindall's construction business in London, will leave the business in February next year.
Building understands Jacobs is taking early retirement for personal reasons. There is no suggestion that he has been asked to leave or has been made redundant.
Morgan Sindall said 58-year-old Jacobs plans to "step back from the frontline" after 40 years in the construction industry.
Jacobs, who joined Morgan Sindall from Lend Lease in 2011, where he headed the team behind the London 2012 athletes village, is also president of the CIOB. It is understood that he plans to remain in that role until his term ends next year.
Jacobs has played a lead role in developing Morgan Sindall's London business, which also includes the aviation market at Heathrow and Gatwick, with the firm picking up some prestigious London commercial jobs in recent years, including a £30m office scheme for Derwent London in Chancery Lane and a £65m office scheme for Legal and General in Covent Garden.
Morgan Sindall's construction and infrastructure arm reported an 8% fall in revenue to £1.2bn in 2012, and the firm has targeted the London market and aviation as key growth areas.
Graham Shennan, managing director of Morgan Sindall, said: "Peter has done a tremendous job developing our construction offering in the capital and will leave with our best wishes.
"We are in the process of recruiting a replacement to help us make the most of the London market, which continues to present growth opportunities."
The news of Jacobs' exit follows Building's revelation last week that the long-time boss of Morgan Sindall's £400m fit-out division, Steve Elliott, has stepped down from the business, with Tim Smith, the long-standing commercial director of the same division, which includes the Overbury and Morgan Lovell businesses, also announcing his intention to retire at the end of the year.
It also follows a number of senior management changes in the £2bn-turnover construction group in the last 12 months, which have seen chief executive Paul Smith and finance director David Mulligan leave Morgan Sindall Group, and executive chairman John Morgan re-take the reins as chief executive.