Development Corporation seeks experts for 'Quality Review Panel' to advise on post-Olympics regeneration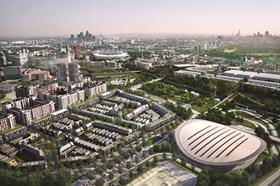 The organisation responsible for the post-Olympics regeneration of the London 2012 site has launched a search for architects and environmentalists to advise on its redevelopment plans.
The London Legacy Development Corporation is recruiting a panel of "independent" experts to review the quality of designs being put forward for the 7,000-home regeneration of the east London site.
All proposals for the area, which will be known as the Queen Elizabeth Olympic Park, will be reviewed by the 'Quality Review Panel', which will also provide informal advice to the Legacy Corporation.
The panel will have 12-15 members, with recruitment managed by an independent recruitment company, Fortismere Associates, in order to protect the integrity of the appointments.
Andrew Altman, chief executive of the Legacy Corporation, said the body was looking for people with a wide variety of skills. "The future Queen Elizabeth Olympic Park will be a fantastic new part of London, a place for people to relax, to be entertained, to get involved as well as a place to live and work.
"We are looking for an exceptional group of people from a wide range of disciplines to apply to join the panel. Specifically we are seeking people with expertise in all aspects of design - architecture, urban design and landscape architecture - as well as sustainability, regeneration, urban sociology, economic viability and development delivery, to help us build a great new piece of the city."
Panel members will be paid £250 a day for their time, with the chair given £400. Interested applicants should send their CV with two references and a covering letter to LLDC@fortismere-associates.co.uk by 8 June.