Latest Deloitte London crane survey says 9.2 million sq ft of under-construction offices will not satisfy demand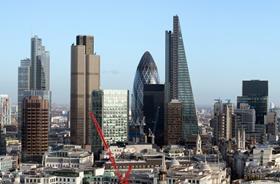 London office space is "likely to remain in short supply for two years" despite an upswing in demolitions and sites readying for construction, according to the latest Deloitte London office crane survey.
The survey said there was 9.2 million sq ft of offices under construction in central London.
Deloitte said the level of office development is up on the previous year, but is still below the long-run average.
This, combined with a "clear rise" in office take-up over the last 12 months, has resulted in availability falling to its lowest point since 2007, according to Deloitte.
This year will see 7 million sq ft of Grade A office space delivered, the largest volume in a single year since 2003.
But 45% of the total volume under construction has already seen early letting success, "meaning available space reaching the market will be significantly lower" than previous years, according to Deloitte.
Anthony Duggan, partner and head of research at Deloitte Real Estate, said: "Developers that started office development schemes at the first signs of economic recovery in 2011/12 are now reaping the rewards as their schemes complete at a time of reducing availability, increased tenant demand and rental growth.
"There is currently just ten Grade A buildings in central London that are available to let as a whole, and only five which can offer an occupier 100,000 sq ft of space or more, which is severely limiting choice."