Estates also cited rising construction costs and a weakening occupier market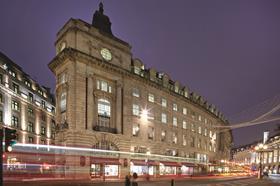 London's established landed estates have admitted they are finding developing difficult as new players flood the UK market on the back of a cheap pound.
Foreign investment in property and developments in the UK, such as the £9bn revamp of Battersea Power Station and the new £18bn nuclear power station at Hinkley, has surged recently.
Research from the University of York on behalf of the Greater London Authority revealed13% of new-build residential properties sold in London between 2014 and 2016 were bought by overseas buyers.
One of these landed estates, the Grosvenor Group, unveiled plans earlier this year to build 1,500 new rental homes in Bermondsey in South East London, as well as over 110,000 sq ft of new public spaces and 85,000 sq ft of ground floor retail, food, leisure and culture space.
Anna Bond, head of development for Grosvenor's Estate Development Programme, told Building: "We do have an appetite to find more sites like Bermondsey but the competition in the space of a few years has really increased. Any uncertainty Brexit has created has brought the currency opportunity, so pricing is still very strong.
She added that these "other investors" are also "trying to buy on our estate," as well as competing for external sites.
James Cooksey, director of central London at The Crown Estate, who was on a panel with Bond at Mipim UK last week, echoed her fears.
The estate is currently progressing a number of West End schemes, including the £100m redevelopment of Duke's Court near the Ritz Hotel, which Skanska has been appointed to build.
"There's no doubt now we're battling with several headwinds from a significant rise in costs of construction but perversely we haven't actually seen a correction in pricing, which is being driven by international factors and the desire to invest in London.
"There's a massive dislocation between the occupier markets and the capital markets which creates a real difficulty for a property market. That dislocation means that the economics that drive development are somewhat challenging."