Damning report by Lords says HS2 should be put on hold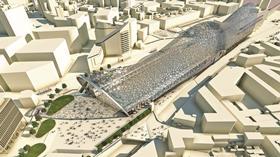 HS2 would cost up to nine times more to construct in the UK than in France and would benefit London more than the rest of the country, a House of Lords committee has concluded.
The House of Lords Economic Affairs Committee has called for the infrastructure project to be put on hold after stating that the government has failed to put forward a convincing case for why it is necessary.
The report states: "The Government sets two main objectives for HS2: increasing capacity on the railway and rebalancing the economy but, concludes the report, it fails to make a convincing case for either."
With regard to capacity the report states that long distance trains from London to Birmingham are less than half full at present, with problems only arising on Friday evenings and on commuter lines into London. When it came to rebalancing the economy the House of Lords states that in other countries such as France it is the capital city which benefits most from high speed rail projects.
Lord Hollick, Chairman of the House of Lords Economic Affairs Committee said: "The Committee are supportive of investment in rail infrastructure, but are not convinced that HS2 as currently proposed is the best way to deliver that investment.
"The Government are basing the justification for HS2 on two factors – increased rail capacity and rebalancing the UK economy; we have not seen the evidence that it is the best way to deliver either.
"Overcrowding on the West Coast Main Line is largely a problem on commuter trains and on long-distance trains immediately after peak time on Friday evenings and at some weekends. The Government have not carried out a proper assessment of whether alternative ways of increasing capacity are more cost effective than HS2."
Speaking about the Lords report a Department for Transport spokesman said: "HS2 is a vital part of the government's long-term economic plan, strongly supported by Northern and Midland cities, alongside our plans for better east-west rail links confirmed in the Northern Transport Strategy last week."
Reacting to the Lords report, Richard Laudy, head of infrastructure at Pinsent Masons, said it threatened infrastructure investment. He said: "The risk to the UK of this report is that this urgently needed project is further delayed as yet more evidence is sought.

"Our infrastructure is languishing at 27th in the World and increased connectivity between the capital and the rest of the country is urgently needed, if we are to improve on this and deliver the growth that our strongly performing economy deserves.

"Unfortunately this is yet another example of further potential impediments which are such a disincentive to the many overseas investors who would welcome the opportunity to invest in our market."