Contractors understood to be only two left in the running for UOL Group's 43-storey tower scheme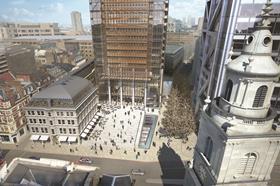 Contractors Mace and Bouygues are battling it out for the contract on Singaporean developer and investor UOL Group's 43-storey tower scheme at 150 Bishopsgate, Building understands.
UOL Group purchased the site, located at 142-150 Bishopsgate and facing the existing Heron Tower, for £97m from Heron International in 2014. Two separate industry sources said the two contractors were the only two now competing for the scheme, on which WSP Parsons Brinckerhoff is structural engineer and building services designer, among other roles.
The site has planning permission from the City of London for a £500m 43-storey hotel scheme, formerly known as Heron Plaza (pictured), designed by Fred Pilbrow and Lee Polisano of PLP Architecture (previously partners of KPF's London office) who also designed Heron Tower.
This comprises a purpose-built 562,000ft2 five-star hotel, residential apartments and a retail component. The construction value is not known.
The tower is a key part of a cluster of planned towers in the city, including the 62-storey PLP-designed 22 Bishopsgate, KPF's 'Scalpel' tower at 52 Lime Street and Eric Parry's 310m scheme for 1 Undershaft.
Bouygues recently won the £1bn residential-led third phase development of Battersea Power Station. Aidan McLeod, project manager at Battersea Power Station Development Company (BPSDC), told Building that Bouygues won it due to it being able to deliver the building's concrete frames itself without having to subcontract it out.
Meanwhile, Mace has recently been awarded the £400m contract for the redevelopment of Tottenham Hotspur's White Hart Lane stadium and the first stage of TH Real Estate's £400m Gotham City development at 40 Leadenhall.
An industry source said: "Only a handful of contractors have the ability to deliver towers in London and, historically, the competition has been fairly tight with the same names cropping up for new projects time and again. People might have thought that Manhattan Loft was a one-off for Bouygues, but over the last couple of years they've been getting shortlisted for more projects like this."
Gwee Lian Kheng, group chief executive of UOL Group, has previously said the development is part of the firm's overseas expansion plans. Speaking in 2014, he said: "We look forward to establishing good rapport with the local community as we embark on the development of this project."
UOL Group was unavailable for comment, and Mace and Bouygues declined to comment.