Contract will centre on supplying equipment to Armed Forces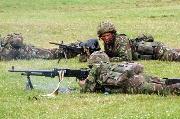 A consortium of Mace, Turner & Townsend, EY, Efficio and Gardiner & Theobold has won the commercial delivery partner role for the Ministry of Defence's equipment and services procurer.
The 10 year contract will see the consortium named Paragon support the Defence Equipment and Support (DE&S) in its procurement of equipment and services for the Royal Navy, British Army and Royal Air Force.
It will also assist with improving the efficiency and effectiveness of DE&S commercial operations and business.
Jason Millett, chair of the Paragon consortium, said: "The new consortium will be able to draw on a huge range of cross-sector expertise and experience to meet the complex requirements of both DE&S and the UK's Armed Forces over the next 10 years."
Mike Connolly, senior responsible officer of the Paragon consortium, added: "Our focus is to work in partnership with DE&S to support the organisation to equip the UK's Armed Forces for operations now and in the future whilst delivering value for money to the taxpayer."