Firm reaches figure two years ahead of schedule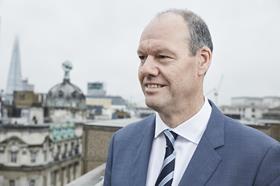 Mace says it is now a £2bn turnover business with chief executive Mark Reynolds pledging to grow the firm's consultancy arm and carry out more contracting work under the construction management route.
The firm said its turnover for the current year would top the mark when it publishes its annual results next year.
Back in 2013, Reynolds had said Mace wanted to hit the £2bn figure by 2020 but a string of high-profile jobs including Battersea power station and Manchester Town Hall, where it is project managing the £330m deal to refurbish the grade I listed building, have helped it breach the number two years early.
The firm, which was set up in 1990, has been in the headlines recently over the late-running Spurs stadium while Building understands another high-profile job, its scheme to build new homes at Chelsea Barracks in west London, was hit by a leak from the nearby river Thames over the summer which flooded basements at the site.
But Reynolds (pictured) shrugged off the woes and added: "We have seen the market change, we have seen great achievements and admittedly learnt some lessons along the way. Our company mission is to continuously pursue a better way which has helped us to grow and deliver on our promises."
The company was on the verge of being a £2bn turnover firm when it posted its 2017 results in June with its contracting business turning in revenues of £1.63bn while its FM and consultancy arms posted a combined income of just under £390m.
Mace said it wants to "significantly" grow its consultancy business by 2022 and is targeting global infrastructure deals while the firm's contracting arm is looking to carry out more construction management work – like its deal at the new Tottenham Hotspur stadium.
Over the summer the firm announced it was rejigging its construction division which saw 10 business units cut down to six at the beginning of July.