Firm to work on redevelopment of Richmond House being carried out by Lendlease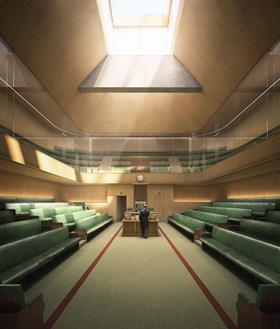 Mace has been picked to project manage the redevelopment of Richmond House into a temporary debating chamber for MPs while the Palace of Westminster is being restored.
The consultant will work with main contractor Lendlease to build the AHMM-designed building, pictures of which were unveiled this week, so MPs can move in by 2025.
The building's original façade will be kept, while the remainder of the building will be overhauled to include a Commons-style chamber and a triple-height atrium.
Based in Whitehall, Richmond House was completed in the 1980s and was the Department of Health's headquarters before it moved out in 2017.
Once parliamentarians are decanted – with peers due to move to the nearby QEII Centre – refurbishment of the nineteenth-century Palace of Westminster and surrounding buildings will begin.
The win is the latest in a crop of high-profile PM roles for Mace which include the entire Stratford Waterfront development, the £253m Wellingborough prison, and the redevelopment of the Alexander stadium in Birmingham ahead of the 2022 Commonwealth Games.
And last month a Mace-led consortium won a £4bn job as development partner for the Ministry of Defence's £4bn estates programme.