Firm predicts bounce back in tender price growth despite the number of new orders plunging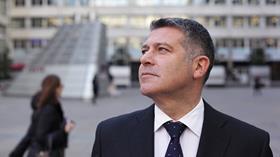 Mace's tender cost growth forecasts have remained unchanged despite increasing industry pressures.
The latest tender cost forecast update indicated there would be little respite in the next 12 months, with overall market conditions continuing to weaken, as the construction industry plunged into recession for the first time since 2012.
Steven Mason, managing director of cost consultancy at Mace, said there was unease in the industry.
"The last quarter has seen little change in market sentiment, and the stuttering progress in Brexit negotiations has done nothing to ease increasing concerns that tougher times may lie ahead," Mason (pictured) said.
"In spite of this, the construction sector remains remarkably resilient, with activity in the residential, public and infrastructure sectors counteracting declines in commercial market activity."
Despite a significantly weaker market position, Mace left tender price forecasts unchanged.
Mace predicted UK tender price inflation would remain at 2.5% this year and at 1.5% in London before remaining stagnant throughout 2018.
But the forecast projected a gradual rise in tender cost prices, with growth hitting 4% both inside and outside the capital by 2021.
"As the market appetite to secure pipeline work in 2018 and 2019 increases, we are starting to see the ongoing upward pressure on input prices be offset by falling margins. We fully expect this trend to continue with our forecast tender prices holding steady at levels reported in recent quarters," Mason said.
The marked drop off in new orders was represented by a 12.6% decrease from 2016 – the largest annual fall since 2011. The commercial sector has been hit particularly hard with the number of new jobs being put to tender dropping by 20.4% year-on-year.
The drop reflected Office of National Statistics (ONS) figures which showed construction output decreased by 0.7% during the third quarter of 2017, following a fall of 0.5% from April to June.
ONS data for the three months to August showed construction output dropped by 0.8% from the previous quarter, due to declines in new work and repair, as well as maintenance activity.