Mace's joint venture with Essential Living will develop 44-storey private-rental development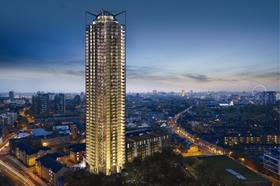 Mace has won the job to build a £100m 44-storey tower in Elephant & Castle in what will be one of the largest private-rental developments in the UK.
The mayor of London announced the deal today, which will see Mace and Essential Living develop the UK's first large-scale institutionally-backed residential homes on the Newington Butts site in Elephant & Castle.
The scheme has secured institutional backing from Essential Living, a partnership between Essential Land and M3 Capital Partners.
Boris Johnson said that when completed the 44-storey tower, designed by Rogers Stirk and Harbour architects, would be the largest private-rental development of its kind in the country.
The development of the Newington Butts site in Elephant & Castle, owned by the Greater London Authority (GLA), will see Mace and Essential Living, using institutional investment, develop the tower, which will comprise 462 residential units, 188 of which will be affordable.
Mace will act as developer, project manager and contractor.
David Grover, chief operating officer for investment at Mace, said: "We are delighted to have been appointed as developer partner on Newington Butts.
"Mace is committed to helping shape sustainable cities across the UK and overseas through smarter infrastructure and better buildings.
"This fantastic development will help deliver the Mayor's vision for future living in London, a completely new type of rental offer in the London market, and we are proud to play our part".
Peabody is the preferred affordable housing partner to provide around 159 shared ownership and 29 rental units.
Work on the tower will begin early next year and it is earmarked for completion in 2017.