Threat comes a day after CH2M walked away from disputed deal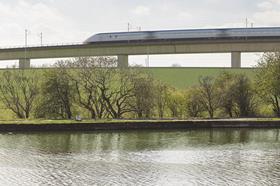 Mace is still mulling legal action against HS2 after accusing the firm of not answering a series of questions it raised over a disputed contract on the scheme which yesterday saw preferred bidder CH2M dramatically walk away from the deal.
Building understands that QC Michael Bowsher – the £650 an hour silk it hired shortly after CH2M won the deal last month – has told senior figures at the business that HS2 has a case to answer over its handling of the process for a £170m contract on the second phase of the rail link.
The news comes as the pair finally prepare to sit down tomorrow morning for what is set to be an acrimonious meeting about the work known as the Phase 2b Development Partner Contract.
Mace has alleged there were conflicts of interest after HS2 Ltd, which is responsible for building the network, appointed CH2M European managing director Mark Thurston as its new chief executive earlier this month. He replaced interim Roy Hill, who was himself seconded to the client from CH2M, while another senior figure at HS2, its former interim chief of staff Christopher Reynolds, who spent five years at HS2, joined CH2M last year in a technical support role.
But Mace said it only asked three questions relating to conflict of interest worries with a source confirming "we had more questions about other issues and they've not answered the vast majority we've had".
A Mace spokesperson said: "It's important to note that conflicts of interest was only ever one element of our concerns."
He added: "In our 26 year history, working on some of the UK's most iconic projects, we have never brought a case to the High Court or seen a procurement process run like this. We continue to closely review our next steps with our legal team and don't rule anything out."
Mace is hoping the contest will be re-run but HS2 has said it will open discussions with Bechtel, the US firm who originally placed second in the contest, and Building understands that these negotiations could be wrapped up possibly by the end of next month. A source said: "We're quite happy with our number two option."
A HS2 spokesperson said: "We have no plans to re-run the contest."
In a statement, CH2M, which has its London office in Hammersmith, said HS2 were "aware of the involvement of Mr Reynolds throughout the procurement process, as documented in CH2M's bid, which expressly identified Christopher Reynolds and included quotes from him".
It added: "CH2M is clear that it went above and beyond the conflict of interest protocols, as set out by HS2 Ltd."
A source close to CH2M said the firm had not been put under pressure from Whitehall to back out of the deal. "There was zero contact between the Department for Transport and CH2M."
CH2M, which is carrying out a similar role on the first phase of HS2, is believed to have withdrawn from the bid after deciding sticking with it no longer made commercial sense. "They took the commercial decision they didn't want to be dragged along with this anymore."