Scottish hedge fund reduces stake by 50%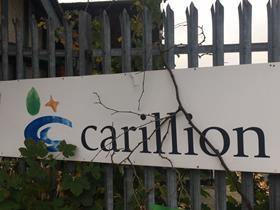 Carillion's largest shareholder has offloaded half its stake in the under siege contractor.
In an announcement posted on the Stock Exchange, Kiltearn Partners reduced its share in the company from 9.85% to 4.94% late last week.
This means the Edinburgh-based hedge fund has reduced its interest by around 21 million shares.
The move comes on the back of a November profit warning, which said the firm's year end debt could be north of £900m.
The contractor had made desperate attempts to reduce costs in an attempt to slash its mounting debt pile and hit its disposal target of £300m by the end of next year, including the sale of a "large part" of its UK healthcare FM business to support services specialist Serco for £50m.
The November warning followed the September announcement of a pre-tax loss of £1.15bn for the first half of the year after racking up more than £1bn-worth of provisions including a previously unannounced £200m hit at its support services business.
Pressure for Carillion to complete a refinancing deal before new chief executive Andrew Davies moves in next April has grown following the profit warnings and admission it will breach its financial covenants.
Carillion said "it expects to be implementing its recapitalisation plan" by April but Cenkos analyst Kevin Cammack said he expected this to be wrapped up before the former Wates boss takes the reins.
"He would be crazy to join not knowing whether that [refinancing] had been achieved," he said.
The company was expected to issue a trading update last Wednesday but Building was told it had been cancelled because the company had provided an unscheduled update in November and was not required to provide another update at this time.