Firm says year end debt could be north of £900m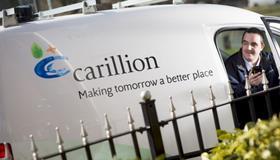 Crisis-hit Carillion has issued its third profit warning of the year and admitted it will breach its financial covenants.
The contractor has made desperate attempts to reduce costs in an attempt to slash its mounting debt pile and hit its disposal target of £300m by the end of next year, including the sale of a "large part" of its UK healthcare FM business to support services specialist Serco for £50m last month.
But in yet another trading update this morning, the firm admitted its turnaround plans were not progressing as quickly as first hoped.
Carillion said a mix of delays to some PPP disposals and start date of a significant project in the Middle East, as well as lower than expected margin improvements across a small number of UK support services contracts, will lead to profits for the year to 31 December being "materially lower" than current expectations.
It now expects full year debt in 2017 to be between £875m and £925m, all of which will result in a covenant breach.
Carillion said it is now in discussions with stakeholders regarding a range of options to reduce its debt, as well as further ways to repair and strengthen its balance sheet. It said this could require "some form of recapitalisation, which could involve a restructuring of the balance sheet".
Following additional talks with its principal lenders, it will amend the agreements to defer the test date for both its financial covenants from 31 December 2017 to 30 April 2018 (based on profits for the 12 months to that date), by which time it expects to be implementing its recapitalisation plan.
Carillion interim chief executive Keith Cochrane, who will step down from the role next April when Wates boss Andrew Davies takes over the reins, said: "Whilst we continue to target cash collections, reduce costs, execute disposals and focus on delivering for our customers, it is clear that significant challenges remain and more needs to be done to reduce net debt.
"Constructive dialogue is continuing with our financial stakeholders to rebuild the Group's balance sheet, and I am grateful for their support. I remain focused on addressing this issue before my successor, Andrew Davies, takes up the role."
Carillion, which in September announced a pre-tax loss of £1.15bn for the first half of the year after racking up more than £1bn-worth of provisions, including a previously unannounced £200m hit at its support services business, said it was planning a series of disposals over the next 15 months to bring in much needed cash.
This was followed shortly after by the announcement that Davies was joining the firm where he is expected to completely rebuild Carillion's senior management team as he masterminds a strategy to return the contractor to profit.
Earlier this month, the firm recently hired Alan Lovell, a former boss of Jarvis and Costain, as a non-executive director.