Peabody and Lendlease behind redevelopment
An international competition has been launched to find masterplanners for a huge £8bn regeneration project in south-east London.
The 250 acre scheme in Greenwich, known as Thamesmead Waterfront, is set to provide at least 11,500 new homes, commercial and leisure space across more than a mile of undeveloped river frontage.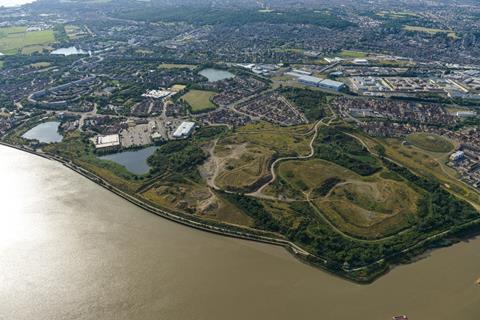 Thamesmead Waterfront Joint Venture, a partnership between Peabody and Lendlease set up in October 2019 to spearhead the project, said the scheme would be an opportunity to create a "new and exceptional place for a post-pandemic future".
It will be the largest project in Peabody's 158-year history.
The JV has called for "visionary and strategic masterplanners" to apply for the two-stage competition, which is open to small and medium sized practices and those with local knowledge.
Up to 10 teams will be invited to present illustrations to the JV in the first stage, with a second stage in December narrowing the number down to five teams before a final winner is chosen in March next year.
Lendlease managing director of development for Europe Bek Seeley said the competition is "an opportunity for a wide range of individuals and organisations to think big and bold about what the future of our cities might be, and how Thamesmead Waterfront can lead in making that vision a reality".
The competition is being run by Colander Associates with stage one submissions due back by 25 November, ahead of five shortlisted teams being named on 14 December.
Peabody, which operates more than 66,000 homes across the capital and the south east, took over the Thamesmead estate six years ago.
Built in the 1960s, the housing scheme is home to 45,000 people and was used as a setting for Stanley Kubrick's1971 film A Clockwork Orange.
Lendlease beat Morgan Sindall to be named preferred bidder for the work in February last year, Peabody having begun its search for a development partner in October 2017.