Latest increase would be 3% above projected growth in tender prices
Material prices look set to increase by another 10% over the coming months in the latest sign that the severity of the widespread shortages is yet to peak.
Analysis by the Royal Institution of Chartered Surveyors (RICS) found that the price hikes would exceed a 7% growth in tender prices forecast for the period.
Brian Berry, chief executive of the Federation of Master Builders, said: "At a time when builders' workloads and enquiries are surging, expectations of a 10% rise in material prices over the next year paint a worrisome picture for UK builders seeking to recover from the pandemic."
The RICS' latest construction and infrastructure survey found that a record 82% of respondents reported material shortages limiting activity in the second quarter of 2021, up from 57% in the first three months.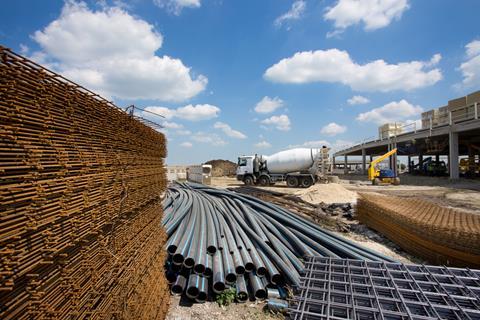 A Gleeds survey of construction industry workers also published this week found that more than three-quarters of respondents expect the shortages to get worse over the next quarter.
And the Mineral Products Association (MPA) said in a new report that it expects demand for core construction materials to remain high into 2022, with double-digit growth in minerals products sales expected until the end of this year.
In a sign of the current levels of demand, the report showed that, despite the difficulty faced by many firms in getting materials, the mineral industry has supplied the highest quarterly volumes of some materials in more than 12 years.
The quarterly survey found that sales of aggregates in the first half of 2021 were at their highest since mid-2008, driven by demand on major infrastructure projects and highway schemes.
Asphalt sales also rose by 4.5% in the second quarter compared to quarter one to over 6 million tonnes, the second highest volume recorded since 2008 after a peak in the last quarter of 2020.
Total demand for asphalt in the year to June 2021 was 4% higher than in 2019, with demand particularly strong in Scotland and the East Midlands.
And mortar sales, a strong indicator of housebuilding activity, rose at their second fastest quarterly rate since 2012 with sales up more than 20% compared to quarter one.
The demand for mortar chimes with figures in the RICS' survey, which returned the highest number of respondents reporting an increase in private residential construction activity in six years.
Some 50% of respondents said that activity in private housing had increased in quarter two, up from 39% in the first quarter. Infrastructure also jumped, with 45% reporting an increase in activity compared to 34% in quarter one with new energy projects seen as driving growth.
But the survey also picked up rising concerns around labour shortages, with 64% now saying that a lack of labour will limit activity compared to 42% in the previous quarter. For bricklayers, the figure nearly doubled to 58% in the second quarter from 34% in the first, while for carpenters it had increased to 55% from 33%.
The overall outlook remained positive despite multiple pressures, with a balance of +55% expecting workloads to continue increasing, the highest number since early 2016.
And the outlook for profit margins also edged up, with a balance of +12% now expecting profits to increase after nine consecutive quarters of negative results - although the RICS said the number only represented a modest improvement and warned that other findings from the survey provided a note of caution.
RICS chief economist Simon Rubinsohn said that, despite an upbeat mood among firms, it was "abundantly clear" that the industry was facing challenges. "Most notably at this point, the availability of building materials stands out as a key problem for respondents to the RICS survey," he said.
"But almost as significantly, labour and skills are increasingly being cited as obstacles for businesses looking to build out existing commitments or embark on new projects.
"For the time being, the issue appears most visible regarding skilled trades but quantity surveyors are also being highlighted as an area of growing shortage."
A Gleeds poll on LinkedIn last month found that more than 80% of 300 respondents said material shortages were causing delays to their projects.
And the consultant's summer report also found that the number of contractors reporting problems in finding labour had soared to 44% from 17.5% in the firm's spring report.