The existing centre was designed by O2 arena architect Richard Rogers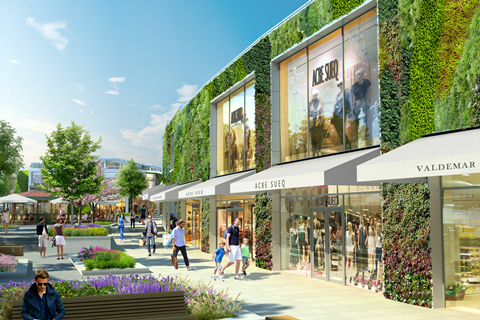 McLaren Construction has been appointed on the £90m phase two extension of Ashford Designer Outlet in Kent.
Work is set to begin onsite later this month, with the new space scheduled to open in Autumn 2019.
The 100,000ft2 extension will add up to 50 shops, a new food piazza, events space, redesigned children's play area and 725 new parking spaces. It will create 500 jobs, with many of the new stores clad in tens of thousands of plants, all stacked vertically.
Plans for the expansion, which will also include a complimentary shuttle bus linking the outlet, town centre and international train stations at weekends and during school holidays, were first announced in 2014 and secured approval in September 2015.
This will be Ashford Designer Outlet's first extension since opening in 2000. The existing 185,000ft2 centre was designed by Richard Rogers, the architect behind the Lloyd's building in London and O2 Arena.
The expansion of Ashford Designer Outlet is one of eight major projects highlighted by Ashford Borough Council and Kent County Council as key employment and economic drivers in the development of the area.