Coalition's own MEPs lament 'missed opportunity' in letter to communities secretary Eric Pickles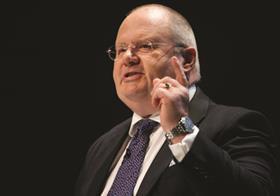 Tory and Lib Dem members of the European Parliament this week lambasted the UK government for its "incoherent" approach to Display Energy Certificates (DEC) in a letter to communities secretary Eric Pickles (pictured).
Last November, Building exclusively revealed the government had abandoned plans to roll out DECs to private sector buildings as part of the UK's compliance with the European Energy Performance of Buildings Directive and would instead only require them to display Energy Performance Certificates (EPC).
The move sparked a backlash because DECs - which are compulsory in the public sector - measure a building's actual performance in use and are seen as more accurate than EPCs, which only cover predicted performance.
The roll-out of DECs to the private sector is one of five aims of Building's Green for Growth campaign, which aims to boost the economy while helping the country cut its carbon emissions.
In the letter sent on Tuesday, Tory MEP Vicky Ford and Liberal Democrat MEP Fiona Hall, both members of the Parliament's Industry Research and Energy Committee, said the European directive was never intended to result in different standards for the public and private sectors.
The letter also questioned why EPCs, rather than DECs, were applied to the private sector given that the latter was "favoured by a great deal of commercial and professional interests".
They called the government's approach "incoherent" and a missed opportunity to implement the Energy Performance of Buildings Directive in a way that would "far more effectively" encourage improvements in the energy performance of buildings.
The letter also questioned why the government had not conducted any consultation on the implementation of the final text of the directive and asked whether a consultation would be carried out.
Andrew Warren, director of the Association for the Conservation of Energy, said the criticisms from such prominent figures were "as unprecedented as they are deserved".
The communities department was unavailable for comment.