Building Safety Act provisions to protect leaseholders come into force today
Building owners sending remediation bills to leaseholders from today could face up to 10 years in prison, Michael Gove has stressed in a letter to industry bodies.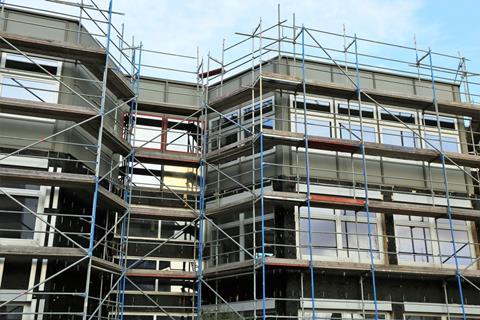 The secretary of state stressed it was a "criminal offence" for those responsible for buildings not to pay for "essential repairs" under provisions of the Building Safety Act to protect leaseholders, which come into force today.
He wrote in the letter to the chief executives of the British Property Federation and the Property Institute that: "It is important to be clear – anyone who chooses to breach the statutory protections will be committing a criminal offence".
He added: "Individuals involved in such criminal activity could face up to 10 years in prison, in addition to the consequences for their companies. Criminal exploitation of leaseholders will be treated as a matter of the utmost seriousness."
The bill, which became law in April, is in addition to the government already receiving a commitment from at least 47 housebuilders to remediate their own buildings of more than 11m in height.
Housebuilders that have signed the pledge have commited to fixing all 'life-critical' fire safety issues on their own blocks going back 30 years, without recourse to the Building Safety Fund.
Gove in his letter noted: "My department has secured unprecedented pledges from developers to fix buildings they constructed, and stands ready to contribute with substantial funding to fix dangerous cladding on medium and high rise buildings. Building owners and managing agents must also now act."
Gove wrote in his letter that he expected that building owners "will have advanced plans to comply with all the provisions of the Building Safety Act, including those yet to come into force".
He also confirmed building owners will have to ensure their buildings have an updated fire risk assessment that reflects the latest guidance on proportionality.
The secretary of state added: "Where cladding requires removal and your developer has not pledged to fix their own buildings, you will have full assessments ready to submit to either the Building Safety Fund, which is shortly to reopen for applications, or the new medium-rise fund that will be launched soon." The government plans to raise £3bn through a levy over the next 10 years to pay for rememdiation works when the individual or organisation responsible for a mid-rise block can not be found.
Gove taken a tough line with developers to ensure they pay for remediation works rather than leaseholders, threatening to stop them getting planning permission if they did not sign the cladding pledge, and is now following that with threats of legal action to buildings owners who don't pay for improvement works where necessary.
He said in his latest letter he would be "prepared to exercise my new legal powers under the act" but also the new Recovery Strategy Unit would work closely with enforcement authorities to see where leaseholders were being asked to foot the bill for remediation works. "Any such action would undoubtedly, and rightly, harm the reputations of those we need to pursue," the secretary of state warned.
The government has also signed contracts for a new professional insurance indemnity scheme, it announced. This will help assessors carry out EWS1 assessments, which are on external walls, to identify whether buildings have fire safety risks, which it was hoped would restore "common sense and proportionality to the market". The RIBA announced yesterday it had launched a review of the professional risk and professional indemnity insurance market because of "worsening" in terms of the cost and breadth of cover available to architects.
A Building Safety Regulator, overseen by the Health & Safety Executive, will now ensure high-rise buildings are safe and respond to concerns raised by tenants through a new panel.
Construction manufacturers will be subject to market surveillance by a National Regulator for Construction Products, which will quickly remove unsafe materials.