Barnet Homes will use modular system developed by architect RCKa
Council-owned housing company Barnet Homes has submitted plans drawn up by architect RCKa for 47 modular homes on an estate in north-west London.
The homes at the Broadfields Estate in Edgware will be built using RCKa's own 'Common Home' system – a set of house types based on Structural Insulated Panels and specifically developed by the architect to minimise construction wastage, cost and unnecessary complexity in the design and construction of new homes.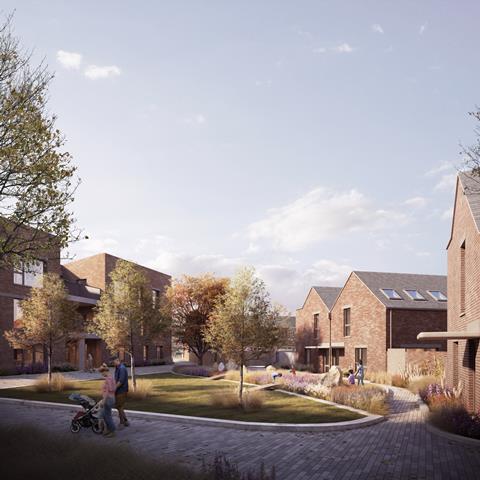 RCKa claims its system, developed using Building Information Modelling, enables a typical Common Home product, using local supply chains, to be designed and configured in a few weeks at a fraction of typical consultant fees.
The homes are built to Passivhaus equivalent air-tightness and use heat recovery for heating, instead of gas-central heating, making them highly sustainable.
All the homes will be affordable, with the scheme scheduled for completion in 2023. The homes will be placed at various points in the existing estate to densify the existing suburban landscape dating from waves of development from the 1930s to the 1970s, and will replace unused garages, dead ends and green spaces with no clear purpose.
RCKa has set up the Common Homes product as its own company in partnership with backer Native Finance, aimed at providing affordable homes for local people.
Russell Curtis of RCKa said: "This is exactly the kind of project that we should be building on suburban sites to increase density and intensify existing estates."
The architect said that it had not yet determined the exact procurement method for the Barnet homes, but that it had deliberately designed the homes in such a way that the components can be provided by any number of suppliers, in order that it did not wed itself to any one proprietary offsite system .
In future schemes, it said, it anticipated that the Common Home business will be responsible for overseeing the manufacture and assembly of homes on site.