Study by academics found 28,000 tonnes of carbon were saved on two schemes in London
Factory-produced homes can produce up to 45% less carbon than traditional methods of residential construction, according to new research by academics from the University of Cambridge and Edinburgh Napier University.
A study found that two modular housing schemes designed by HTA Design, consisting of a total of nearly 900 homes, saved a combined 28,000 tonnes of carbon.
Embodied carbon, which is emitted by the production and transport of materials during a scheme's construction, currently accounts for around 11% of global emissions.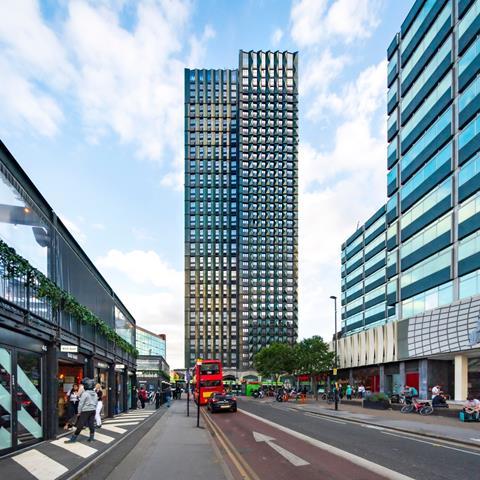 In the UK, emissions from embodied carbon are between 40 and 50 million tonnes each year - more than aviation and shipping combined.
Researchers at Cambridge and Edinburgh found that these emissions are "dramatically" lower when modular systems are used because units are completed offsite in a controlled assembly line environment and taken to site in one delivery.
It means that modular buildings require fewer carbon-intensive products like concrete and steel, and less transport for on-site workers and material deliveries.
> From the archive: See the world's tallest modular tower in Croydon
The two schemes studied were the 44 and 38-storey Ten Degrees towers in Croydon - the world's tallest completed modular scheme - and The Valentine, a 10-storey student accommodation block in Redbridge. Both were developed by Tide Construction and Vision Modular Systems in 2020.
The report said these developments achieved embodied carbon savings of 41% and 45% respectively when compared to traditional construction methods, significantly lower than RIBA-set industry targets.
University of Cambridge senior research associate Tim Forman said the study "underscores the fundamental importance of quantifying carbon in construction and across a building's life cycle".
Napier University professor Francesco Pomponi said that the report's conclusions were based on "conservative assumptions", adding that the results make a "compelling case for the embodied carbon-saving benefits of modular construction".
The report comes a month after the collapse of modular housing firm Urban Splash, which went into administration with the loss of 160 jobs.
The Manchester-based housebuilder, which is 4% owned by Homes England, had reopened a modular factory in 2020 but later that year reported a pre-tax loss of £3.4m for the 12 months to September 2019.
But HTA Design sustainable futures partner Rory Bergin insisted the report by Cambridge and Napier Universities showed that factory-built homes are the "future of housebuilding".
He said: "Two of the biggest challenges our country faces are tackling the climate crisis and the acute shortage of housing.
"This research shows that only through modular construction, which can deliver low carbon homes quickly and at scale, do we have any chance of meeting both these challenges together."
Last month, an influential parliamentary committee urged the government to embed whole-life carbon assessments of construction schemes into building regulations.
The Environmental Audit Committee said ministers should embed assessments of emissions from the construction, operation, maintenance and demolition of a building into the regulatory and planning systems.