Firm reports a 61% fall in pre-tax profit as it forks out £6.5m in integration costs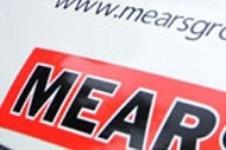 Mears' pre-tax profit has fallen 61% because of the cost of restructuring Morrison, which it bought last November.
In a statement to the City, the firm reported a pre-tax profit of £4m in the six months to 30 June 2013, down from £10.2m over the same period last year.
This was driven by £6.5m of restructuring costs and a £5m reduction in value of Morrison and its other acquisitions.
Over the same period last year it reported a £3.2m reduction in the value of its past acquisitions.
Operating profit, calculated before these costs were included, actually rose to £16.3m from £14.9m over the period.
The firm reported revenue of £457.8m up from £307.2m, an increase driven by the Morrison acquisition.
In the accounts David Miles, chief executive of Mears, said the restructuring costs were "in line with our original expectations".
He added: "The integration of the Morrison social housing business is now substantially complete. As anticipated, integrating Morrison is realising valuable synergies."
Miles said he expected "Morrison activities" to make a "positive contribution to profit in the second half of this year" to the social housing arm of the business.
He said there remained very strong potential for growth in the social housing sector, where the firm reported organic growth of 17% to £378.9m over the period.
The firm also reported an order book totalling £3.8bn, up from £2.5bn in the first six months of 2012.