Debate in parliament sees Sir Robert McAlpine accused of involvement in a "witch hunt" around 1972 building workers strike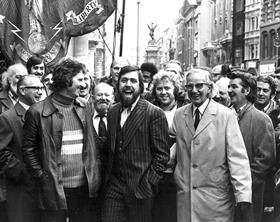 The McAlpine construction dynasty has been accused of involvement in a "witch hunt" which campaigners claim saw building workers and picketers wrongly jailed after the 1972 construction workers strike.
MPs last week voted by 120 votes to three in favour of urging the government to release secret papers on the so-called Shrewsbury 24 who were accused of violent picketing and intimidating workers in Shropshire during the strike, the first and only organised building workers strike in Britain.
Six of the picketers, including actor Ricky Tomlinson, were charged under the 1875 Conspiracy Act and later jailed and campaigners are calling for their convictions to be quashing, claiming they were victims of a miscarriage of justice.
Leading the Commons debate last Thursday ahead of the vote, Labour MP David Anderson claimed that major industrial unrest in 1972 had left the Conservative government "rattled" and "determined to help their friends in the building industry".
He said that following the end of the dispute, the construction industry, including Sir Robert McAlpine, and then home secretary Robert Carr piled pressure on the police to launch a major new investigation in north Wales, which led to the police interviewing hundreds of people about the industrial unrest.
"The choice of North Wales…was not an accident," he said. "North Wales was a part of the world where the McAlpine family had a huge amount of political influence. They were not only influential players in the Tory party but one of the biggest developers in the building industry, including at the site..that was the epicentre of the case against the pickets.
"In addition – again, this may be purely coincidental, but I doubt it – the high sheriff of Denbighshire, the man responsible for law and order in the area, just happened to be the ninth member of the McAlpine family in succession to have held that post."
Asked by another MP if there was a "financial link" between the building employers and the party then in power, Anderson replied: "I cannot say for certain that that was the case but it is clear that one of the main protagonists was [Alistair] McAlpine, who became deputy treasurer of the Conservative party within a matter of months after the trial ended and who was also one of the party's chief fundraisers for decades."
Anderson also said that many of those picketing were blacklisted, adding: "One real sadness about what we are discussing today is that 40 years on from that disgrace, similar things are still taking place."
Sir Robert McAlpine has been contacted for comment.