City tower and pandemic to blow hole in 2020 accounts after firm slips to £14m loss for 2019
Losses running into millions of pounds on its 22 Bishopsgate project and the cost of dealing with the covid-19 pandemic will see Multiplex sink further into the red when it publishes its 2020 accounts later this summer.
The firm's delayed 2019 accounts, published at the end of last week, show the builder, which is expecting to start work next month on a £400m scheme to turn the former US embassy at London's Grosvenor Square into a luxury hotel for Qatari Diar, nosediving to a £14.2m loss for the year to December 2019.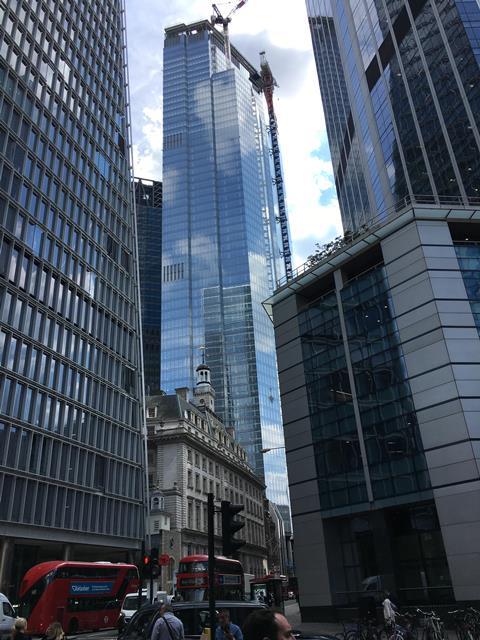 The firm, which was the first major contractor to shut sites after prime minister Boris Johnson imposed the first national lockdown to deal with the coronavirus pandemic on 23 March, said four problem jobs, believed to also include its One Blackfriars residential scheme for Berkeley-owned St George and a children's hospital in Edinburgh, had helped send the firm into the red from an £18m profit in 2018.
Multiplex is understood to have booked some losses for 22 Bishopsgate, the City of London's tallest tower which finally reached practical completion last month, in its 2019 accounts but is expected to make provisions for the bulk of them in its next set of numbers when company-wide losses are set to hit three figures.
In its 2019 results, Multiplex said the impact of covid meant "the overall financial effects [would] be a charge to the profit and loss of £130m to £170m". The firm admitted the figure was "significant" but added it was "manageable".
Multiplex, which is best known for building London towers, was held up finishing the already loss-making 22 Bishopsgate by the onset of the covid-19 pandemic last spring, seeing productivity flatline for a time with the firm then having to fork out on a series of measures to enable work to resume.
It is understood to have been hit by problems caused by the social distancing restrictions required at the site, in particular the issue of getting hundreds of workers in lifts to the upper floors of the 278m-tall tower to complete fit-out work.
The construction value of Multiplex's contract on 22 Bishopsgate is understood to be around £620m but the final bill is believed to be more than £40m north of that figure.
Turnover for 2019 slumped from £1.06bn to £872m with the firm's revenue expected to settle at between £750m and £850m in the coming years.
Multiplex, which made around 120 people redundant last year in the wake of the pandemic, has around 16 schemes currently on site including a job to turn the former Metropolitan Police headquarters into a mixed-use scheme called Broadway for developer Northacre.
It is also working on Native Land's £1bn Bankside Yards mixed-use scheme opposite One Blackfriars as well as its ongoing job at Chelsea Barracks for Qatari Diar.