The M&E specialist had been a subcontractor on the Midland Metropolitan Hospital job
NG Bailey has been forced to write-off £2.1m due to Carillion's collapse, according to the contractor's for the 12 months to 2 March.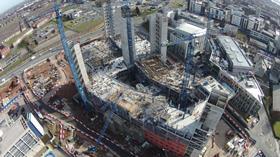 The specialist contractor, who landed a £80m deal to deliver MEP services to the ill-fated Midland Metropolitan Hospital (pictured) job in 2015, said Carillion's collapse had resulted in the firm taking a financial hit.
The company said: "On 15 January 2018, Carillion plc filed for compulsory liquidation. As a result of the Carillion liquidation, NG Bailey Limited has recognised a £2.1m of exceptional costs for irrecoverable contract costs."
In a contract notice published last week, the Sandwell and West Birmingham Hospitals NHS Trust confirmed it was looking to get work on the Midland Metropolitan Hospital – which has been inactive since 15 January, the day Carillion went bust – restarted as soon as possible.
The notice, which said an early works contractor was set to be on the job from 11 September, also laid out a number of jobs that would be carried out by exisiting subcontractors. NG Bailey was not among them.
Despite the hit from Carillion, the M&E specialist posted a strong set of results, with the boss of the West Yorkshire-headquartered M&E contractor, saying his firm was well placed to weather any commercial headwinds after the UK leaves the EU next March.
Speaking as the Ilkley-based firm posted a 5% rise in annual pre-tax profit, NG Bailey's chief executive David Hurcomb said that while the business was focused on achieving sustainable growth and a market leading position in its core markets it could not afford to be complacent.
"We are operating in what is still a challenging environment for construction, with many major contractors feeling the impact."
Hurcomb said there was "continued economic uncertainty surrounding Brexit and the impact it will have on our industry", although his business was "in a good position to weather any economic storm".
Pre-tax profit came in at £19.6m, up 5%, as the group reported turnover for the year to 2 March 2018 of £481m, down 4%.
The firm, which bought the electricity distribution business the Freedom Group in April and recently finished M&E services at the revamped London Bridge railway station, said its operating profit before exceptionals was £13.7m, up 14%.
The deal to buy the Freedom Group had helped push the firm's overall order book to around £1.4bn, it added.