Piling specialist forced to write off bad debt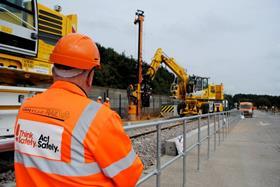 Piling specialist Van Elle has been forced to write off close to £1m in bad debt following Carillion's collapse earlier this year.
The firm had already warned it was facing losses from Carillion's liquidation back in January and in its results for the year to April, Van Elle said it had booked a bad debt charge of £956,000 during the period.
It said revenue in the second half, which inched up just 0.5% to £51.2m, had been "impacted by the demise of Carillion and subsequent delays in recommencing work on contracts that were being delivered at the time of the company's liquidation".
It added: "The rail business was significantly impacted by the collapse of Carillion and although satisfactory terms were agreed to recommence some of the halted contracts this only had a limited benefit in the second half."
But the Nottinghamshire-based firm still increased income during the year, with revenue jumping 10% to £104m.
Pre-tax profit slipped £100,000 to £9.2m although underlying operating profit fell 4% to £11.1m.
The firm said it racked up exceptional costs of £283,000 which included costs following a failed proposal by its former chairman and founder Michael Ellis to change the make-up of its board which resulted in an EGM last December. It added the figure also included expenses associated with an aborted acquisition.
New chief executive Mark Cutler joins the business next month after Jon Fenton stepped down in May because of personal reasons.