Gigafactory could cost around £1.7bn
Nissan is on the brink of announcing plans to build a giant battery plant in Sunderland, it has been reported.
The Japanese car manufacturer is in the final stages of talks to build the gigafactory, which is expected to be up and running by 2024 and could make at least 200,000 batteries for electric vehicles each year.
The value of the new plant is unknown, but the UK's first gigafactory being built by battery maker Britishvolt in Blyth which is expected to make 300,000 batteries a year is valued at £2.6bn.
Industry sources told the BBC that the scale of Nissan's plant is expected to be similar to that of a facility in France announced by Renault last week, which is valued at around £1.7bn.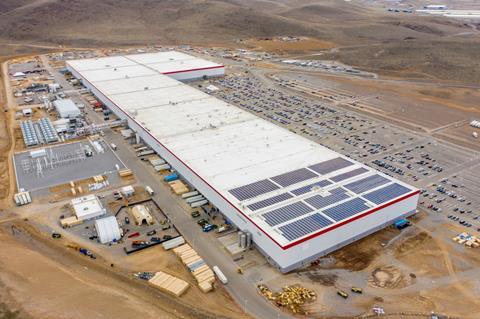 The government is helping to fund the project, although the size of the contribution is unknown.
Last autumn, the government announced a £500m fund for electric vehicle battery production as part of its "green industrial revolution" agenda.
The funding announcements also included £582m in grants to incentivise uptake of low-emission vehicles.
Sales of electric cars are expected to soar following a planned ban on new petrol and diesel vehicles from 2030.
Four other car manufacturers are in talks with the government and local authorities to build battery plants, according to the Financial Times.
Car maker Ford, electronics firms LG and Samsung, and British start-up InoBat Auto, which is said to be eyeing a site close to Coventry airport, are all looking to expand into the market.