Laing O'Rourke set to sign £112m deal for landmark arts complex this summer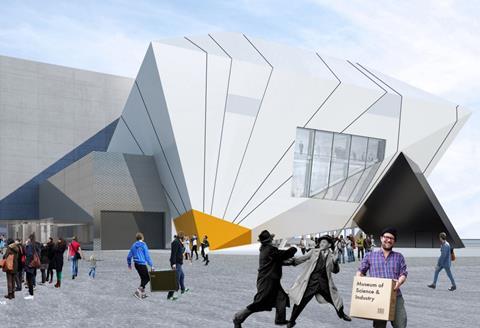 A new £112m arts venue in Manchester set to be built by Laing O'Rourke and designed by Rem Koolhaas' practice OMA has submitted revised proposals for the landmark scheme.
Original proposals for The Factory venue, named after the city's legendary Factory Records label – home to Joy Division, New Order, Happy Mondays and others – cleared planning last year.
But a new application drops the seating capacity of the development's theatre element, changing the shape of its vinyl-clad exterior in the process, boosts the size of the venue's orchestra pit and increases the scheme's overall commercial element.
The scheme approved last year included a 2,300 standing-capacity theatre and a separate 5,000-capacity warehouse space for "immersive" events on part of the former Granada TV studios site. While the warehouse section's capacity remains unchanged in the revised application, the theatre capacity is being dropped to 2,090 for standing customers, and from 1,600 to 1,520 for seated guests.
Work on site had been expected to start last year ahead of a 2019 opening but this was delayed following a review last summer which said the orchestra pit had to be made bigger to fit more players. The review also found that the glazed and concrete facades on the building's north and south frontages would interfere with the venue's acoustics.
In the new application, the capacity of the theatre's orchestra pit increases from 60 to 80, while the revised proposals also include the removal of glazing from the north and south facades of the warehouse section, on the grounds that "90% of the time the glass would need to be blacked out" for performances".
The site of the new venue also incorporates a grade II listed railway viaduct that would need to be altered for the scheme.
Laing O'Rourke has been working under a pre-contract services agreement since summer 2016 but is now expected to sign on the dotted line for the main contract by the summer.
Former chancellor George Osborne announced in 2015 that government would be providing the bulk of the money – £78m – for the venue. The remainder is due to be provided through charitable donations and Arts Council funding.
It is being built for the city council and is part of the wider St John's regeneration scheme being carried out by Allied London. This includes a tech, media and creative industries hub called Enterprise City.
Koolhaas himself is leading the practice's first significant public project in UK with the firm beating a top-flight shortlist – including Zaha Hadid, Bennetts, Mecanoo and Rafael Vinoly – to the deal back in autumn 2015.
Work is due to finish by the end of 2020 with arts group Manchester International Festival, whose chairman is Urban Splash founder Tom Bloxham, then running Factory.