Statistics body currently only produces a narrow estimate of construction output
The Office for National Statistics has said it will consider publishing a new measure of construction output to include consultancy work.
The statistics body currently only produces a narrow estimate of construction output that captures just contracting activity, meaning the industry accounts for only 6-7% of UK GDP, when economists believe a truer measure could put it at up to 15%.
The Office for National Statistics (ONS) told Building this week it would be "happy to look at" publishing a separate wider construction output figure - which could also include materials, components and off-site manufacturing - but said its priority was improving the quality of existing sector figures.
Under existing methodology construction tipped into recession over the first half of this year, contracting on a quarterly basis by 0.7% in the second quarter and 0.3% in the first.
The ONS' method of sticking to contracting when estimating the sector's output puts it in line with internationally agreed norms. But it does stray from these norms to publish additional measures for other sectors, including tourism.
The ONS' comments come after the new president of professional body the CIOB, Paul Nash, confirmed his organisation is in talks with the ONS about launching a broader construction figure.
Nash told Building: "Productivity is clearly something that is very much on politicians' minds. There is a view among politicians that our industry is not performing at all well when it comes to productivity and to some extent the data supports that, but therein lies one of the problems."
New CIOB president Paul Nash sets out his stall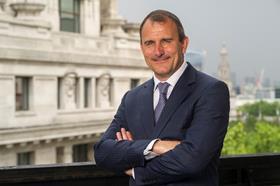 Turner & Townsend director Paul Nash began his year-long tenure as CIOB president last month.
He told Building his priorities include championing professional ethics and governance, and continued expansion of the body.
Nash said he believes globalisation and advances in technology have brought ethics and governance issues to the fore.
He said: "Governance needs to underpin everything as when it goes wrong as we've seen outside as well as inside our industry it goes very wrong and the damage financially and for reputations can be huge."
Nash wants the CIOB to raise awareness of ethics issues and provide members with the practical tools to help tackle the challenge. The CIOB's academy is already launching an ethics and governance module this year.
This push is on top of continuing the CIOB's growth plans to increase its global membership, as well as looking at whether the CIOB could become an academic accreditation body.
Nash added that the government needs to create more certainty around its construction pipeline. At T&T, he is working on HM Revenue & Customs' estate plans to create 13 new regional hubs, which has already seen the government sign up for space in Ruskin Square, Croydon.