Construction output falls in September, confirming 2.2% drop over the third quarter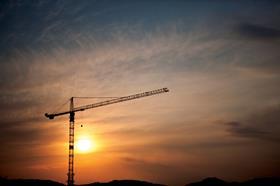 Construction output fell for a third consecutive month in September, confirming a 2.2% drop for the third quarter, according to the latest ONS output figures.
Output fell 0.2% month-on-month in September, following a 3.4% decline in August.
The ONS said downward pressure over the quarter came from both all new work and repair and maintenance, which fell by 2.2% and 2.1% respectively, with all work types except infrastructure and private industrial reporting decreases.
Commenting on the figures, Scape Group chief executive Mark Robinson said: "Although the ONS has shown an overall fall in output of 2.2% in the last quarter, the view on the ground has been more positive - the CIPS/Markit PMI data from the past few months has consistently shown that contractors are optimistic, with new orders coming in and a strong pipeline of projects.
"This is exactly the longer term view we need to take. Building the new homes and supporting infrastructure that Britain needs will require greater collaboration and innovation across the sector, as well as better skills training and reform of the planning system to allow quick and strategic decision making."