Morgan Sindall's fit-out arm to upgrade art deco building for Coventry university
Fit-out specialist Overbury has been appointed to refurbish a historic former cinema in the centre of Coventry.
The art deco Ellen Terry Building was built in 1928 and is now used by Coventry university for its media and performing arts courses.
It is named after Dame Ellen Terry, a leading Shakespearian actress of the Victorian stage who died the same year the former cinema was built.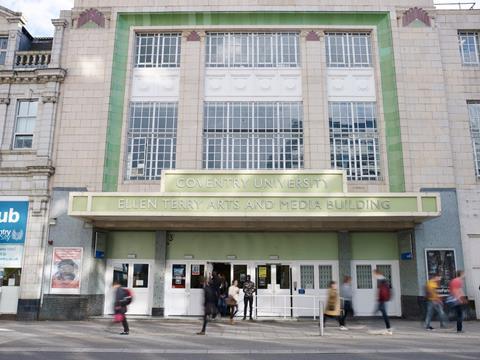 Overbury, a subsidiary of Morgan Sindall, has landed the job of remodelling the building's theatre and performance facilities, including its changing rooms and teaching areas.
It is the latest of a string of projects Overbury has worked on for the university, following the contractors' refurbishments of the 1980 William Lyons building, its student engagement centre and the 1922 Whitefriars building, which is used for offices.
The contractor also refurbished the 1971 Richard Crossman building, which is used by the university's faculty of health and life sciences.
The scheme has been designed by Warwick-based architect Robothams, with the project team also includes QS and project manager Gardiner & Theobald and M&E consultant Stuart Turner.
Work is due to start this month and is expected to take 10 weeks to complete.