House of Lords to host first-of-its-kind watchdog panel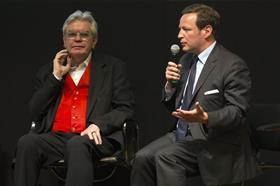 Britain is to get a parliamentary select committee dedicated to the built environment for the first time in its history.
The House of Lords Select Committee on the Built Environment will be established after the general election on 7 May, with a remit to scrutinise and explore placemaking and built environment policy.
The idea was proposed by Lord Hunt of Chesterton in a debate in the Lords last year on the Farrell Review.

He said: "We have never had a select committee on this subject. [They] are extraordinarily powerful bodies … it would be the only way to have a genuine cross-cutting move."
A formal application was then submitted by Baroness Janet Whittaker, vice-chair of the All-Party Parliamentary Design and Innovation Group, and Baroness Kay Andrews, former chair of English Heritage, following discussions with the Farrell Review team.
The pair took part in the Lords debate, with Whitaker warning that Britain would be "missing an extraordinary opportunity" if it failed to create the conditions for sustainable placemaking outlined in the report.
Architect Terry Farrell - author of the Farrell Review (and pictured above with culture secretary Ed Vaizey) - predicted the cross-party body would be a "powerful new voice" for urbanism in the UK.
"The stewardship, long-term planning and identity of real places should be a fundamental part of built environment policy," he said.
"This select committee will be a powerful new voice in that debate and we look forward to hearing more detail about its remit in due course."
A version of this story was originally published by Building's sister title Building Design. It can be read here.