Firm is to plan a new technology campus in area nicknamed Dublin's Silicon Docks
Ireland's oldest university, Trinity College Dublin, has chosen Perkins+Will to masterplan its new technology campus.
The five acre site sits at the heart of Dublin's docklands along the River Liffey, an area already home to some of the world's largest technology companies, including Facebook, Twitter and Google, earning it the nickname Dublin's Silicon Docks.
"The plans for The Trinity Technology and Enterprise Centre are ambitious, not just for Trinity but for Ireland," the college's chief innovation & enterprise officer Diarmuid O'Brien said.
"The campus when complete will be a new piece of national innovation infrastructure and the most significant physical infrastructure project in the 425 year history of the university."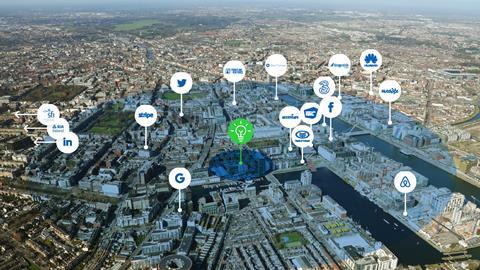 The new campus will provide academic facilities, including a new research institute that will comprise leading researchers from the university's schools of engineering, computer science and nature sciences; three leading SFI Research Centres; The School of Creative Technologies; and The Lir Academy.
In addition 12,000m2 of co-working space will be established via a partnership with the Cambridge Innovation Centre, which will accommodate more than 480 companies and provide over 1,000 jobs.
David Green, principal at Perkins+Will, said: "The design will help strengthen the existing and thriving entrepreneurship sector in Dublin, bringing together innovation-related resources and activities in one, vibrant, central location, while solidifying its position as a major hub for the city.
The project team includes local architects Reddy Architecture and Urbanism and engineers Elementa and Arup.