Properties built by pair come under fire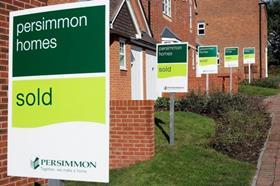 Big name housebuilders are once again coming under fire for the quality of new-build properties.
Residents are set to be vacated from a Coventry block of flats built by Persimmon while work is undertaken to shore up the building.
Insurer NHBC said remedial work on Philmont Court was set to begin this summer, with the scaffolding already in place.
A spokesperson for the insurer said: "Due to the nature of the work to be carried out, it has been essential for the health, safety and wellbeing of all residents that we move them into temporary comparable accommodation at no cost to them, whilst we carry out the necessary remedial repairs to address the problems at the development.
"We understand that the situation has been concerning for residents and we appreciate the cooperation from both residents and Whitefriars Housing Group [who manage the flats] during this period."
While NHBC declined to comment on the cost or who would be carrying out remediation works, the insurer confirmed there were structural concerns about the building.
Remedial works are being done to ensure that the cavity barriers are correctly installed and that adequate wall ties are in place.
The spokesperson said: "It has been determined that taking down the outer leaf and re-building…is the safest and most effective way to resolve matters as swiftly as possible."
Andy Peters managing director for Persimmon Homes South Midlands, said: "We are aware of issues at Philmont Court and we are in close liaison with the NHBC, who are leading the matter. As the NHBC is the lead on this, it would be inappropriate for us to comment further."
Whitefriars Housing said it had purchased the flats, which Persimmon completed in 2007, a decade ago and "subsequently uncovered issues".
Meanwhile, Bovis Homes has been forced to defend itself as claims regarding the poor quality of its homes surfaced once again.
The Times last week claimed Bovis customers have encountered problems after moving in to their new homes that the company has failed to fix.
The company, which spent £10m last year dealing with a host of snagging complaints and led new boss Greg Fitzgerald to send the majority of staff on customer training programmes after buyers moved into newly built homes that suffered from problems including electrical and plumbing faults, said the latest complaints being reported were from 2016.
A spokesperson for the firm said: "[It] in no way reflects Bovis Homes as a business today, nor the enormous amount of work that has been done by our staff to improve both the quality of our homes and our customer service.
"Currently more than 87% of our customers would recommend us to friends and family, in line with the industry standard and representing a 30 percentage point improvement on where we were at the same time last year."
But Mark Farmer, chief executive of Cast and author of a 2016 independent review into the capacity of the homebuilding industry, said the latest issues were a major problem for the entire sector.
He added: "Fundamentally, this is a skills related issue that is becoming a risk in an increasingly resource constrained industry. This covers skills in the boardroom, skills in design offices, skills on site."
Farmer said government's plan to impose a new homes ombudsman would be accelerated as these claims about poor quality continued to surface.