Housebuilder reports 8% growth in forward sales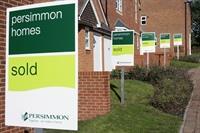 Persimmon has reported a strong start to trading in 2018.
In its latest trading update the housebuilder recorded a strong forward sales position, with total forward sales revenue, including legal completions taken to date in 2018, of £2.76bn, 8% higher than last year.
The firm's private sales rate per site since the start of the year has also grown to 0.85, up from 0.83 in 2017, which it said "reflects solid market conditions".
Since January, Persimmon has 9,048 new homes sold forward into the private ownership market with an average selling price of £236,500.
This has risen from 8,928 with an average price of £229,500.
Persimmon has also maintained a forward order book of new homes for housing association partners, with 5,330 (2017: 4,616) new homes included in the forward sales position.
The housebuider has opened 65 of the 100 new sites planned for the first half of the year and is building new homes on all sites that have implementable detailed planning consent.
The firm, which has recently come under fire for bonuses, build quality and gender representation on the board, released its full-year results for 2017 at the end of February.
It said 2017 revenue was up 9% to £3.2bn with pre-tax profit up from £774.8m to £966.1m. Underlying operating margins increased from 24.8% to 28.2%.
The company, which is holding its AGM today, is set to provide its next trading update on 5 July.