Housebuilder Persimmon has posted a 52% rise in pre-tax profit, with revenue up 12% to £1.72bn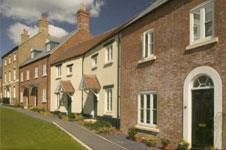 In its results for the year to 31 December 2012, Persimmon said underlying pre-tax profit rose 52% to £225.1m, with revenue increasing 12% to £1.72bn.
The listed housebuilder posted an operating margin of 13% - up from 10% the previous year.
The housebuilder said completions were up by 6% to 9,903, with the average selling price also up 6% to £175,640.
The firm said it had acquired a further 14,800 plots over the year, bringing its consented landbank to 68,200 plots, which represents 6.9 years of supply.
Nicholas Wrigley, Persimmon Group chairman, said: "These strong results mark the completion of the first year of our new strategy and I'm pleased that at this early stage we are ahead of plan.
He said the firm had made a strong start to the new yea, with forward sales reaching £1bn, an increase of 9% on last year. "Mortgage availability remains the key constraint to the housing market. However, there are some signs that lenders are embracing the government's Funding for Lending scheme and we have seen some recent reductions in mortgage rates.
"We anticipate increasing our active outlet number to around 390 sites by the end of June, helping to increase the volume of new homes that the country needs."