Housebuilder boss says Spending Review plans have helped firm up its pipeline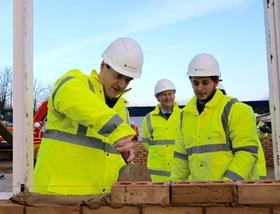 Housebuilder Persimmon is targeting upping its delivery of new homes to over 80,000 over the next five years, the firm's chief executive Jeff Fairburn has announced.
Fairburn made the announcement during a visit by chancellor George Osborne to a Persimmon site in Essex yesterday (pictured). Fairburn said the package of policies for housing in Osborne's Spending Review - including £6.9bn of extra cash for the sector - had helped the firm raise its sights for delivery of new homes.
In February Persimmon's finance director Mike Killoran told Building the firm would target 16,000 completions a year within three-to-five years, but yesterday's announcement confirms the firm is now targeting delivery averaging at that level throughout the five year period. Persimmon completed 13,509 homes in 2014.
Persimmon will open two further businesses in 2016 to help it achieve its expansion plans - in Cornwall and Perth.
Fairburn said: "Home ownership continues to be an aspiration for the majority of British people and these latest initiatives announced yesterday by the Chancellor should help that dream become a reality for many more people.

"Now is a great time to buy, with lenders increasing the number of mortgage products available. The new schemes announced yesterday, which include Help to Buy Shared Ownership, London Help to Buy and the Starter Home initiative will all help even more people into home ownership."
Osborne said: "One of this government's top priorities is backing working families who aspire to own their own home. So we've got to get Britain building, and I'm encouraged to hear about Persimmon's plans to build 80,000 homes.

"My Spending Review sets out our plan to deliver 400,000 affordable new homes - the biggest such building programme by any government since the 1970s."