New management team are 'realists', says Mark Wild
The plan by the previous Crossrail leadership to have the railway up and running by the end of last year was a "fantasy", according to the scheme's current boss.
Speaking at a meeting yesterday (Wednesday) of the board of Transport for London, which is helping bankroll the job, Crossrail chief executive Mark Wild said the project's new leaders were more rooted in realism than the previous regime.
He said: "We mustn't stray to where the project was before which [was a position that] had become a fantasy.
"It's important that a project's leadership is optimistic but it's all about being aspirational rather than fantastical."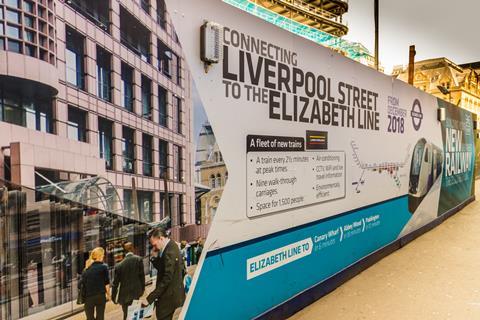 Wild said that he and new chair Tony Meggs were "realists not fantasists".
Speaking at the Public Accounts Committee (PAC) in May, one of Wild's predecessors Andrew Wolstenholme said the job had been on target to open at the end of last year when he left last March.
He told MPs: "The programme we put together in March 2018 still found a way through to opening in December 2018."
But last week the PAC poured scorn on the claims, adding: "It is staggering that Crossrail Ltd continued to believe until as late as July 2018 that the central section of the railway would open in December.
"This over-optimism which was prevalent throughout has proved hugely damaging to the programme."
A review of the scheme ordered at the end of last year by Wild, who was appointed last November, concluded the job would not open until March 2021 – more than two years late.
Meanwhile, Meggs told the same meeting that Crossrail's current leadership believed the project will be delivered by the March 2021 opening deadline and within its £17.6bn pricetag.
He said: "Our current assessment of the most likely cost remains within the available funding envelope but there is more work to do here.
"I should add for completeness there has been pressure as we have looked at things in more detail such as the extraordinary amount of work required in handover.
"But at the moment, based on the analysis we have so far and our current assessment of the programme our opening windows and cost envelopes are in place."
Meggs also revealed that Crossrail had been on a hiring spree – employing 185 people since the start of the year and 50 in the past two months. Posts filled included roles in risk management, project control and civil engineering.