Boris Johnson wants emissions cut a further 15% by end of decade
Scientists and industry bosses have warned Boris Johnson the government needs policies which "measure up" after he unveiled aims to cut the UK's carbon emissions by a further 15% at the end of the decade.
Johnson wants to see greenhouse gas emissions down by 68% compared to 1990 levels by 2030. The previous target was 53%.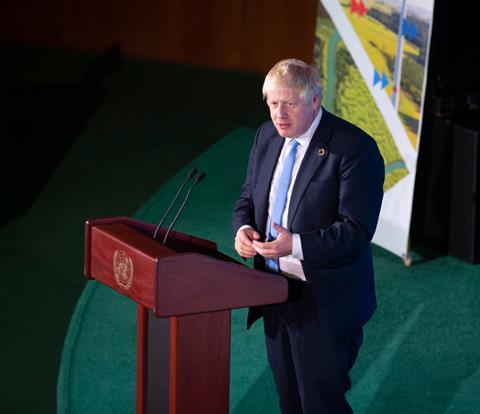 The move is in line with recommendations from the independent public body, the Committee on Climate Change, which advises the government on climate targets.
Johnson said the new target would see the UK cutting emissions faster than any other major economy and urged other world leaders to follow suit.
He said: "We are taking the lead with an ambitious new target to reduce our emissions by 2030 faster than any major economy.
"But this is a global effort, which is why the UK is urging world leaders to bring forward their own ambitious plans to cut emissions and set net zero targets."
The pledge has been welcomed by climate scientists, although many have said that there was a lack of joined-up thinking in the government's policy decisions.
Climate scientist Brian Hoskins said chancellor Rishi Sunak had earmarked £127bn for HS2 and new road projects, while promising just £1bn for the extension of the Green Homes Grant scheme for subsidising energy efficiency improvements to homes.
He added: "The actions of the chancellor don't measure up. Every single department has to wear climate change glasses when they think of new policies and the Treasury clearly hasn't got that message."
And the Committee on Climate Change warned that the target should be "accompanied by wider climate commitments, including the development of a policy package and net zero strategy to deliver against the UK goal".
Chairman of modular housing manufacturer Ilke Homes David Sheridan said that while the target was "hugely welcome", effective policies would need to be introduced "without delay" in order to reach it.
He added: "We know that factory-built homes can reach zero carbon standards today, through a combination of high-performance modular construction and available technologies such as air source heat pumps and solar panels, without the need for offsetting.
"Housing is one area where government can afford to be bold and set ambitious targets for new homes to be at least 75% lower carbon from 2023.
"This can already be delivered at little additional cost and ambitious energy efficiency targets will drive costs even lower as the sector benefits from economies of scale, and as the underlying technology becomes cheaper and more efficient."
But last week the government came under fire from MPs, including those in its own party, for the rollout of the Green Homes Grant scheme.
The scheme, which was extended until the end of March 2022 last month, offers homeowners and landlords vouchers covering up to two thirds of the cost of energy efficiency retrofits to their homes including insulation and heat pumps.
But Green party MP Caroline Lucas said that in a survey carried out by the cross-party Environmental Audit Committee on people who had tried accessing the scheme, nearly nine out of 10 respondents reported having either a poor or very poor experience.
And the committee's chair, Tory MP Philip Dunne, cited evidence from northern housing associations trade body the Northern Housing Consortium that the average cost of the retrofits could be as much as £24,300 per home.
This would be more than five times the estimate of £4,700 used by the government to calculate the level of subsidy provided on the scheme, figures which Dunne called "woefully inadequate".
The government has pledged to reach net zero carbon emissions by 2050, with more policies set to be revealed in a long-delayed Energy White Paper expected to be published before Christmas.