Firm bags £14m job to design and build University Technical College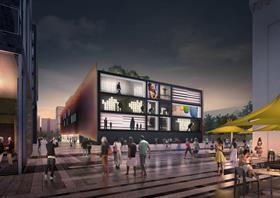 Portakabin has won a £14m contract to design and build the UK's first university technical college to be built off-site.
Designed by Portakabin and architect Surface to Air, the building will include both modular and site-based construction, with a significant proportion of the work completed off-site at Portakabin's factory in York.
The project is due to be completed in time for the start of the 2016-17 academic year.
Called the Global Academy, the building will be used to provide academic and vocational training for 14-19 year olds who want to work in the broadcast and digital media industries.
It will include a sports hall, theatres and a cinema, which will be linked to a four-storey modular building by a full-height central atrium space.
There will be also be radio and TV studios, as well as flexible teaching spaces, informal learning zones, and a café and dining area.
The scheme is being constructed on the brownfield site of the Old Vinyl Factory in Hayes, London, and will require Portakabin to carry out groundworks, excavations for district heating, and the construction of a new sub-station.
Commenting on the project, Portakabin director Simon Ambler said the scheme is a "hugely significant project for the construction sector" which demonstrates "architectural flexibility".