Construction of Eric Parry Architects scheme in City of London to go ahead after client confirms major pre-let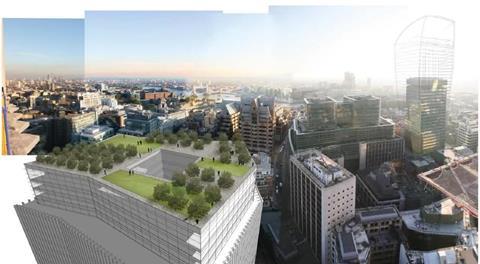 Construction on £420m 10 Fenchurch St is set to go ahead after leading investment manager M&G confirmed plans to relocate its London HQ to the new development.
The 15-storey 420,000 sq ft office scheme, designed by Eric Parry Architects, was given planning permission in 2011 but Generali Real Estate - the Italian insurance group behind the project - had been looking for a significant pre-let before construction work could begin.
The scheme is the first major foray in the London commercial office market by Italy's largest insurance firm, which is working with UK property company Greycoat Core on the 10 Fenchurch St project.
M&G has signed a 20-year lease on 300,000 sq ft and will occupy 11 of the 13 floors available for office space. The investment company is expected to move into the space in 2018.
The mixed-use building will include a public passageway on the ground floor, office space on the middle eleven storeys and a restaurant and roof garden on the upper floors.
The upper three floors are set back from the main body of the building, and taper outwards so that it appears separated from the building below
The project is one of a number of new developments south of the main City cluster, including the planned £400m 170-metre high 'Gotham City' towers at 40 Leadenhall St.