Survey shows more support for maintaining local roads than major infrastructure projects like HS2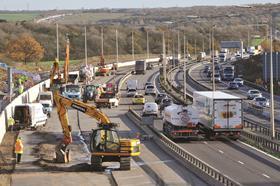 A survey of senior construction executives has found greater overall support for spending on maintaining local roads than on high-profile infrastructure projects such as HS2 and Crossrail 2.
A survey of 300 decision makers at civil engineering and construction companies, conducted by materials supplier Tarmac found that, when rating their support from 1 to 10, upgrading the strategic road network outside of London and local road maintenance both scored higher than major rail projects or adding a runway at Gatwick or Heathrow.
Support for HS2 and HS3 both scored below six out of ten, while Crossrail 2 scored just 5.3.
Expansion at Gatwick scored just five, while there was hardly any more support for a new runway at Heathrow, which scored 5.2.
In contrast, senior executives gave support for maintaining the local road network 8.4 out of 10, while upgrading the strategic road network (motorways and A-roads) outside of London was given 8 out of 10.
The survey also found that 38% of respondents had never heard of the Northern Powerhouse, with a further 48% knowing just the name or a little bit about it.
Only 13% said they knew either a "fair amount or a great deal" about the concept.
This was also reflected in findings which showed that 72% of survey participants said London or the South East would see the most spent on infrastructure projects in 2016, with 66% believing London or the South East will also benefit most from current and future government spending on infrastructure.
More than two thirds (68%) of respondents said they are confident about the UK's overall infrastructure outlook over the next 12 months.
However, two thirds (66%) of those surveyed also said not enough is being done to meet the UK's infrastructure requirements.