Avant wants 2,000 unit business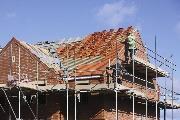 Privately owned housebuilder Avant Homes has said it will use a new bank facility to speed up its plan to become a £500m turnover business.
The Chesterfield-based firm said it will use the £200m to snap up land at sites in Glasgow, Newcastle, Sheffield and Nottingham.
The firm's chief executive Colin Lewis said: "This extra financial firepower we now have to invest in land will help us to build more homes in new locations, enabling us to leap ahead on our timeline to becoming a £500m turnover, 2,000 unit housebuilder."
In its last set of results, Avant posted a 45% increase in turnover to £369m for the year ended 30 April 2017, up from £255m last year. Pre-tax profit returned to the black to come in at £20.6m from a £13.4m loss for the year before.