Firm flagged up drop last October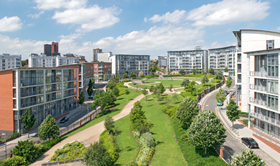 Crest Nicholson saw its profit fall by 15% despite climbing revenue in its financial year ended 31 October 2018.
At its interim results in June the housebuilder has said it expected £205m pre-tax profit for the year – but later had to warn investors the figure would actually be between £170-190m, sparking rumours of a takeover bid.
In the end it recorded £176m pre-tax profit on an operating margin of 16.7%.
The housebuilder, which works mostly in southern England and the Midlands, saw its sales climb 7% to £1.14bn, on the back of 3,020 home sales – up 3% from the previous year.
The firm said it had experienced "a challenging year in a difficult market, with Brexit and political uncertainty impacting consumer confidence and breeding unease."
But its forward sales sat at £639m in mid-Janurary, up from £576m last year.
Crest Nicholson's share price jumped 6% in early morning trading on the back of the results but remains 30% below its 2018 high.
The firm is currently working on the Park Central (pictured) development in the middle of Birmingham.