Firm blames series of loss-making jobs for slump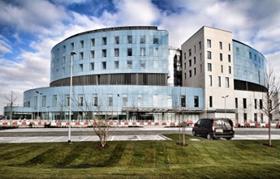 Profit has fallen at Skanska's UK arm for the second year running thanks to a series of loss-making jobs.
The firm, which is coming to the end of its contract to build the £500m Scalpel tower in the City of London, said pre-tax profit fell to £13.5m from £23.6m in the year to December 2017.
Income during the period was up £150m to £1.8bn thanks to a number of contract wins including a £142m mixed-used job at St Giles Circus in London's West End and a £127m mixed-use scheme at Fenchurch Street in the City.
The profit fall means that between 2015, when Skanska posted a £42.1m pre-tax profit, and 2017 the firm's profit has nosedived two thirds.
The 2017 results include a £33m writedown which the contractor's Swedish parent announced last July, although it did not specify which contracts would be affected.
In its results, Skanska UK said: "The main reason for the project writedowns were lower than anticipated production rates, projects being delayed with estimated penalties and multiple customer-driven changes, which have caused overruns. Many of the problem projects were close to completion with others running into 2018."
Details of the overhaul of the UK business that Skanska launched in March have also been unveiled.
The rejig, which has been named the Laser Focus Plan, has resulted in the reorganisation of the company's operating units, with the number falling from nine to seven.
The two construction units, which were previously divided on a geographical basis, have merged, while the facilities services unit has been combined with the M&E division to form a new building services unit.
The UK business has previously confirmed there will be job losses as part of the restructure.
It has also set out plans to improve operational efficiency which it said would be centred on five areas including "rapid adoption of new innovations and industrialisation of our processes".
The contractor, who had been lined up to take on Carillion's Midland Metropolitan job, has been hit with more problems on jobs in past few weeks.
The firm's £165m Papworth hospital job in Cambridgeshire has been delayed after it was found that insulation fitted to the building did not meet contractual specifications.
The new Royal Papworth Hospital (pictured) was due to be handed over this month but is now expected to be delayed by several months.
Last week Sandwell and West Birmingham Hospitals NHS Trust said it was now looking at going to the market to gauge interest in whether the Midland Met job can be completed via a new PFI deal. In a PIN notice, the trust said it was looking at finishing off the £430m job via a PF2 contract. The late-running scheme was at least £100m over budget by the time Carillion collapsed in January.