Scheme has previously identified £800m overspend on first phase of project
Covid-19 and the bill for dealing with protestors such as those who dug a network of tunnels in front of Euston station earlier this year have added as much as £400m to the cost of the first phase of HS2, the minister in charge of the project has revealed.
In his latest six monthly report, Andrew Stephenson said the scheme was facing more "cost pressures" on top of a previously identified £800m cost hike.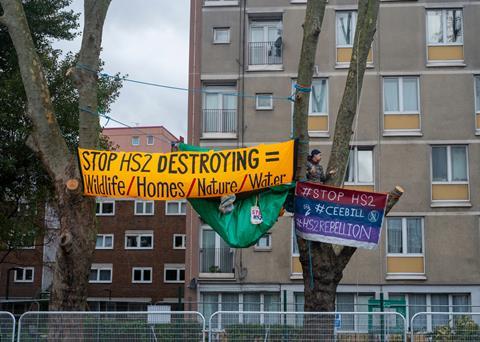 He said: "The cost pressures currently being reported by HS2 that may require a call on contingency if not mitigated are an estimate of £0.4bn, predominately due to slower than expected mobilisation of main works civils contractors, associated with delays to approvals of designs, planning consents, protestor action and some covid-19 impacts."
Stephenson said HS2's initial estimates suggest the financial impact of covid alone on the cost of phase one work last year is between £300m and £400m but that the full impact of covid-19 on both cost and schedule would continue to be assessed.
He added the increase from covid would be dealt with from a government contingency fund.
The extra £400m is on top of already identified hikes of £400m for work at Euston station and a further £400m to be spent on enabling works.