Developer severs 16 year old ties with area after selling stake to Hong Kong JV partner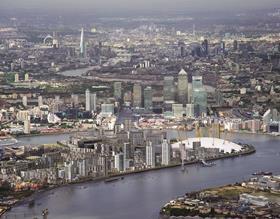 Developer Quintain has severed its 16 year old ties with London's Greenwich Penninsula, after selling its 40% stake in the scheme, which has planning permission for 10,000 homes.
Quintain announced today it has sold the stake for £230m to its Hong Kong joint venture partner Knight Dragon, which takes sole ownership of the scheme.
Knight Dragon bought into the scheme last June after buying out Quintain's previous joint venture partner Lend Lease.
Quintain said the sale will help speed up construction on its £2.5bn Wembley Park mixed-use scheme, where it plans to build 1,300 homes.
The developer has built out parts of the Greenwich Peninsula masterplan - including 454,000 sq ft of offices and Ravensbourne College, and won planning for the first 500 homes in March -but the bulk of the construction work is still to come.
Quintain began amassing land on Greenwich Peninsula in 1997 and was picked by Greenwich Council and English Partnerships to masterplan the whole 150 acre peninsula in 2001.
Quintain bought the Millenium Dome later that year in consortium with Lend Lease and entertainment giant AEG and oversaw its redevelopment into the O2 Arena.
Quintain and Lend Lease sold its freehold for the Arena to Trinity College Cambridge for £24m in 2009, although AEG has continued as operator.
Quintain chief executive Maxwell James said: "This is a compelling transaction for Quintain which, on attractive terms, delivers financial stability and certainty for our shareholders by crystallising future profits and cash flows at an early stage.
"The deal reflects the step change in value created at Greenwich Peninsula since the formation of our joint venture with Knight Dragon last year.
"We have now completed Quintain's wider corporate repositioning, paving the way for a new phase of profitable growth for Quintain.
"We can now accelerate our major commercial and residential scheme at Wembley Park, building on this month's opening of the London Designer Outlet and, with a strengthened financial position, Quintain's highly experienced London team is well positioned to exploit new opportunities investing in selected income and value creating assets in the key London markets."