Developer hires architect for next housing phase and posts return to profit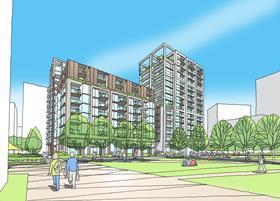 Developer Quintain has announced it will "accelerate" development of the next residential phases of its 5,000-home Wembley Park development, as it posted a return to profit in its financial results in the year to 31 March 2014.
Quintain chief executive Maxwell James said strong early sales for the first Jestico + Whiles and C.F Møller-designed 475-home residential phase had prompted the firm to accelerate plans for succeeding residential phases.
The news came as Quintain unveiled architecture practice Flanagan Lawrence will design the next 300-home phase (pictured).
Quintain completed the commercial phase of Wembley Park, including the London Designer Outlet, last year.
In its financial results, Quintain posted an operating profit of £12.5m, compared to a £37m loss the previous year.
Pre-tax profit – which takes into account finance costs – was £4.7m, compared to a £49.3m pre-tax loss the previous year.
Quintain's profit was boosted by the sale of its 50% stake in mixed-use scheme Greenwich Peninsula to its joint venture partner, Hong Kong-based property investor Knight Dragon, realising a profit of £28.6m and representing a profit on historic cost of £116.1m, or a premium of 172%.
Quintain said it has a "stated ambition to build up a broader London portfolio over time" and will make "selective acquisitions".