Education Funding Agency launches competition for new contractors framework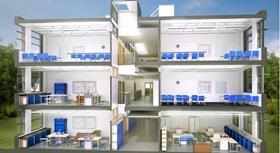 The government's schools capital agency has launched a competition for contractors to design and build schools through a new £3bn schools framework.
The Education Funding Agency (EFA) said the framework would replace its existing contractors framework, which expires in November, and would be used by the EFA, Academy Trusts and local authorities to select construction partners for the delivery of capital building projects.
The EFA said the new framework would include a number of improvements to make it work more efficiently, such as a reduction in the time taken for the design engagement process.
The EFA said the two geographical regions used in the current framework would be retained, with the first comprising the North-west, the North-east, Yorkshire and the Humber, the East Midlands and the West Midlands.The second is made up of the East of England, the South-west, the South-east and London.
Bidders will be able to express an interest in one or both regions, the EFA said.
The EFA said it expects to go out to tender on the new framework in April, soon after Easter, with the successful contractors expected to be in place and bidding for work from December 2013.
Mike Green, director of EFA Capital, said: "The existing Contractors' Framework has demonstrated the value of this approach, both in terms of providing best value for money to the public purse and making it simpler and quicker to procure as well as providing a quick route to site.
"We have seen a number of local authorities choosing to use the Contractors' Framework for their own locally-funded projects, as well as for those funded by central government, which speaks volumes about the effectiveness and efficiency of using this kind of framework."
The Prior Information Notice is available on the OJEU website at http://ted.europa.eu/udl?uri=TED:NOTICE:99682-2013:TEXT:EN:HTML